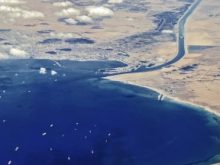 The Suez Canal Authority had to put up with with another ship running aground in the high-traffic waterway. The Coral Crystal, which measures 225 metres in length and 32 metres in width, was passing through the canal with 401 tonnes of cargo when it ran aground. However, the good news is that there was no global shipping traffic jam.
Although it is yet to be ascertained why the bulk carrier ran aground, it has been reported that it was only stuck for short time. According to some international reports, the carrier only took 15 minutes.
Fortunately, it was stuck in a double-lane section of the canal, so other vessels could keep going on their way in another lane.
Earlier this year, the Ever Given blockage led to a global traffic jam. The 440-metre-long Ever Given was wedged in the canal for six days, creating a massive traffic jam and leading to international shipping delays as vessels were forced to go around Africa instead of passing through the canal.