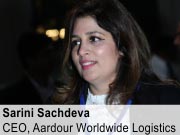 When one thinks of the logistics department or the warehousing sector, the first image that comes to mind is of male truck drivers or laborers carrying heavy loads. It isn't surprising as most people don't feel that women play a significant role in a male dominated industry. This is an unfortunate scenario since women represent around half the global population and yet the analysis of their role in the male-dominated logistics sector remains uni-dimensional. Globally, in 2010, women formed only eight per cent of the logistics workforce which has steadily increased to 20 per cent in 2018. In India, specifically, this number currently stands at approximately 15 per cent and is expected to reach the current global average of 20 per cent by 2022. Considering the focus and the concerted efforts that is being put in across the sector, we are now witnessing women taking up leadership roles at the senior and mid-management level – not to mention many women getting into operational and technical roles like material handling equipment operators, shift supervisors, truck drivers, warehouse managers, stores and linefeed supervisors – and a plethora of other opportunities that have emerged.
A force multiplier in mobilizing participation and involvement is change in mindset towards how we include and leverage on women in the logistics sector and the society in general. By giving women equal opportunities and facilities, we are setting them up for success and empowering them with the confidence and the determination to pursue professional and personal success.
The relentless focus on diversity and inclusion in the last few decades, especially on gender diversity, has borne fruit with women being identified as a potent talent. Women are breaking the proverbial glass ceiling and finding themselves playing an important role in areas which were hitherto considered as male bastions.