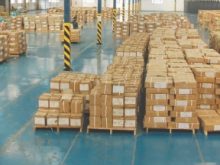 The spectacular growth exhibited by the retail, ecommerce, grocery firms and third-party logistics providers have spurred up the demand for last mile deliveries, forcing top warehousing developers to ramp up their expansions in the tier-II locations and within metros. Aiming to have a better reach to the consumer, operators and investors such as ESR, LOGOS, Blackstone-led Horizon Industrial Parks, and Welspun One Logistics Parks (WOLP) are actively eyeing land acquisitions in smaller cities and vying for first mover advantage in setting up multilevel in-city logistics hubs.
With focus on tier-II cities, ESR is currently in advanced discussions to acquire 3-4 land parcels. The company kicked off its urban logistics plan with the acquisition of 8.2 acres of land in Alipur, Delhi, to establish a distribution centre spread across 300,000 sq ft to cater to e-commerce, grocery, pharmacy, cloud kitchen, and other companies.
"2021 was a mixed bag, with lot of leasing in e-commerce but slowdown in industrial. In the last six months light manufacturing and industrial sectors have revived. We are looking at significant expansion this year, incl-uding in tier-II markets, which have become important because of e-commerce penetration. Our strategy would be to build more plug-and-play (warehousing) facilities, which help customers to go live in three months," said, Abhijit Malkani, chief executive officer (CEO), ESR India.
Warehousing has been a sweet spot for the real estate industry during the pandemic largely because of the e-commerce boom. According to JLL India, the cumulative warehousing supply in the top 8 cities was 287 million sq ft in 2021-end and is expected to touch 500 million sq ft by 2025.