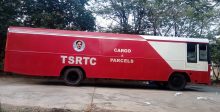 The Telangana State Road Transport Corporation (TSRTC) has launched its parcel, courier and cargo services (PCC) to increase its revenue and bail itself out of the existing losses. The services will be made available at all bus stations and in the first phase will begin with 104 buses and 140 stations. An app will also soon be developed to enable the booking and delivery of parcels and cargo.
Puvvada Ajay Kumar, Transport Minister, Telangana, says, "During the pandemic, the revenues of TSRTC fell sharply. We plan to overcome those losses by generating additional revenue. TSRTC has generated an income of Rs 4 crore per day as against the sum of Rs 12 crore which is used to be generated before the lockdown.. Through PCC, TSRTC is expecting a revenue of Rs180 to Rs200 crore."
"There will be three to five people, depending on the need, at each station," informs Minister.