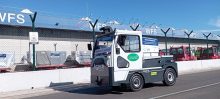 A proof-of-concept trial for autonomous vehicles to move cargo between the warehouse and apron has commenced at Josep Tarradellas Barcelona – El Prat Airport as part of an innovation project between partners, Worldwide Flight Services (WFS) and Aena, the main airport operator, with 46 airports and 2 heliports in Spain.
The project is aligned with the first automated ground vehicle (AGV) guidelines being developed by IATA's Ground Operations Automation and Digitization working group (GAD), which WFS has also been participating in.
WFS and Aena have been joined in the 10-week trial by other three key partners:
FASEREK – with more than 38 years' experience in designing, manufacturing and selling ground support equipment, provides innovative and sustainable solutions to ground handling operations;
MOVVO – has been providing intralogistics solutions for more than 15 years. They put together all the experience and technology to design and automate vehicles, like the AGV tractor that has been used for this PoC;
SIMAI – Founded in 1950, they are specialist producers of reliable and robust towing tractors to support airport ramp operations and other logistic industries.
The use of AGV technologies offers significant advantages, including 24/7 operational capability and resource optimisation.
The proof-of-concept trial in Barcelona will monitor the AGV's ability to provide smooth driving at a constant speed as well as safety, flexible routing, monitoring, and traceability of the service, also provided by the WFS telemetry and geolocation solution supplied by XOPS.