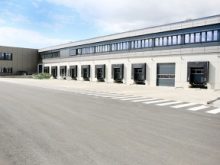 Developed by operator Fraport, Swissport Cargo Services Deutschland is set to open a new cargo handling warehouse at Frankfurt Airport. Swissport is aiming to start operations at the facility in November. Located in CargoCity South at Frankfurt Airport (FRA), the new building has 17,000 sq m of floor space, including temperature-controlled zones for handling sensitive pharmaceutical products. There are also 2,400 sq m of office and communal space.
Willy Ruf, Senior Vice President – Central & Eastern Europe, Swissport International, said, "From November, we will be in a position to handle the cargo of our customers in Frankfurt in one of Europe's most state-of-the-art air cargo centers. Our new cargo warehouse has 50 per cent more handling capacity and is therefore a commitment to growth at Frankfurt Airport. With the integrated Swissport Pharma Center, which has several cooling zones, we are well-equipped to satisfy the stringent requirements for the temperature-controlled transportation of medicines and vaccines."
"The property meets the stringent requirements of a cutting-edge air cargo handling facility," said Felix Kreutel, Head – Real Estate and Energy, Fraport, in adding, "The warehouse connects the airside and landside areas of the airport through separate freight yards. Moreover, its ground-breaking material-handling system represents an important step in the continued automation of our freight processes.