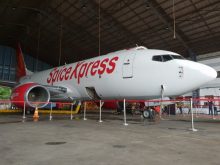 In order to expand its air cargo operations, SpiceXpress has taken the delivery of its first 737-800 Boeing Converted Freighter (BCF). The standard-body freighter, which is the first 737-800BCF to be operated in South Asia, is on lease. The 737-800BCF entered service last year and its order book has grown to 120 orders. Boeing has ramped up production, with output set to more than double to 17 units in 2019. The 737-800BCF, which carries up to 23.9 metric tonnes of payload.
Ajay Singh, CMD, SpiceJet, said, "We are expanding the markets we currently serve, particularly in the Middle East, Hong Kong and Bangladesh and the 737-800BCF's reliability and versatility is helping enable our strategic direction."
Directorate General of Civil Aviation (DGCA) had earlier validated the 737-800BCF's certification.