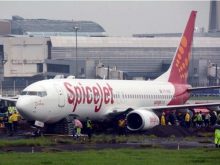 SpiceJet has unveiled dedicated air cargo services and inducted first freighter aircraft in its fleet, making it the first scheduled domestic airline in the country to diversify into the airfreight market. The airline has also created a separate division called 'SpiceXpress'.
Ajay Singh, Chairman and Managing Director, SpiceJet, shares, "We are very confident that there is a significant space for dedicated air freighter in the Indian market. The economy is growing at eight per cent and we are having an e-commerce boom in this country."
"The airline will initially start operations on the Delhi-Bengaluru route but will also look at Guwahati, Hong Kong, Amritsar and Kabul. The airline plans to induct four Boeing freighters this year, which will see the airline offering haulage of 27,000 tonnes per month from the current 15,000 tonnes. The new venture will be a division of SpiceJet. Initially, we will operate two Boeing 737-700s and two Boeing 737-800s," Singh added.
Currently, SpiceJet has a cargo capacity of 500 tonnes a day which is mostly as a result of the cargo carried in the belly of the 58-passenger aircraft it operates.