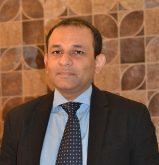 Expressing how technology benefits business, Kapil Mahajan, CIO, Safexpress, lists features like performance tracking and visibility, increased efficiency, enhanced floor planning, etc for optimal processes. He said, "Oracle's enterprise-grade cloud platform solutions have helped us fast track innovation, increase operational efficiencies and improve overall IT management. The technology element aside, Oracle's commitment to customers is demonstrated through regular, hands-on interactions we have with their various teams. These teams ensure we are taking full advantage of Oracle technology to power our business growth, making the entire journey smoother."
Mahajan listed the following business benefits achieved through technology transformation:
1.HOG (Hub On The GO) – Digital Predictive Analytical Dashboard which integrates the IoT platform with core operations. Operational Efficiency of 15-20% w.r.t the reduction in Loading/Unloading times post vehicle arrival within Safexpress Hub Geofence.
2.Workforce productivity in the range of 10-15% w.r.t the average scan count projection, post go live.