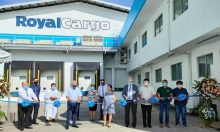 Royal Cargo, one of the leading logistics service providers in the Philippines, recently inaugurated its newest facility, the vaccine depot in Parañaque City, Philippines. This new storage serves as a sizeable addition to the country's fight against COVID-19.
The vaccine depot is a $1million investment that aims to provide a pharma-grade storage facility for COVID-19 and other types of available vaccines. Parañaque City Mayor Edwin Olivarez and Representative Eric Olivarez graced the inaugural ceremony of the new depot located at the Royal Cargo headquarters in Paranaque City.
In his special message, Mayor Olivarez thanked the Royal Cargo management and said, "It is a great help in our country, as we face the pandemic, (the cold storage facility), will store the needed vaccines by every Filipino citizen not only from the City of Paranaque but the whole nation of the Republic of the Philippines." The vaccine depot is strategically located near the NAIA airport for fast and easy transfer of vaccines to and from the airport.