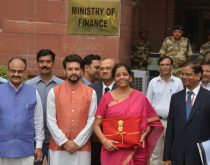 "India is set to become a $3 trillion economy this year and it is well within its capacity to reach the $5 trillion economy by 2024," says Nirmala Sitharaman, Finance Minister, Government of India, while presenting the annual Budget. The Budget says that the government will examine steps to hike FDI cap in aviation.
Government envisions using river for cargo transportation which will also decongest roads and railways. "The movement of cargo on Ganga is estimated to rise four times in four years," informs Sitharaman. GST processes will also get simplified further. The government has given massive push for physical infrastructure too. 125,000 km of road to be upgraded over next five years at a cost of Rs 802.5 billion. To ensure the creation of National Highways Grid of desirable capacity, comprehensive restructuring of National Highways Programme will be done.
Railway infrastructure would need an investment of Rs 50 lakh crore between 2018 and 2030; PPP to be used to unleash faster development and delivery of passenger freight services, says Finance Minister.
"Will simplify procedures, reduce red tape, make best use of tech," says Sitharaman, in adding, "Building social infrastructure, digital India, Pollution-free India and Make in India are government vision."