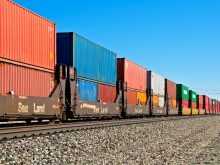 Due to coronavirus pandemic, Indian railway will end 2019-20 with 15.7 million tonnes less than the previous financial year's 1,212.56 million tonnes. Indian Railways was on its way till February to not just meet but surpass its freight loading target. But because of the pandemic, the railways virtually shuts down operations and earnings from freight loading have declined from Rs1,25,354 crore in 2018-19 to Rs1,23,225 crore in 2019-2020 fiscal with a loss of
Rs 2,129 crore.
In February this year, the railways loaded 106.5 million tonnes of goods which was more than around 6 million tonnes in February last year. With the national transporter managing to load 1,108 million tonnes by the end of February this year, around 5 million tonnes more than what it was this time last year, it looked good to achieve its target by March 31. However, after the three-week lockdown in the country, freight loading dipped by almost 3 per cent with the railways carrying around 15.7 million tonnes less goods in March than the previous year.
The railways, however, continues to be the lifeline of the country, supplying essential commodities even through the nationwide lockdown. From March 23 to April 4, it transported 1,342 wagons of sugar, 958 wagons of salt and 378 wagons/tanks of edible oil across the country.