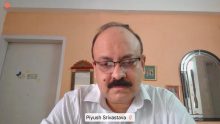 In a latest development, Piyush Srivastava (IES) has been appointed as the new Economic Advisor for the Ministry of Civil Aviation (MoCA), Government of India. He will replace Vandana Agarwal (IES) who had been serving this position and had led the industry from the front.
In his earlier role, Srivastava had held the position of Additional Development Commissioner in the Ministry of MSME, GoI. Under his able guidance, he led many initiatives to strengthen the MSME sector in the country.
The civil aviation industry has emerged as one of the fastest-growing industries in India in recent years. Thus, Srivastava's role will be instrumental in paving the way forward for the industry under the leadership of Jyotiraditya Scindia who has taken over as the new Civil Aviation Minister.