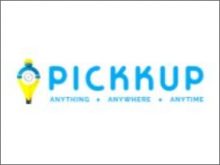 Pickkup is now aiming to expand its services to South's major metropolitan cities Bengaluru and Chennai, apart from starting operations in Vijaywada and Vishakhapatnam this year. With plans to have operations in 5 cities over the next few months, Pickkup aims to reach a revenue of Rs 10-12 crore by the next financial year 2021-22. The startup plans to raise seed capital in the upcoming financial year to fuel its expansion plans including establishing operations in multiple cities and hiring new fleet. The expansion plans come in the wake of stupendous post COVID growth, with the startup registering a 20-fold rise in delivery volumes over the past 11 months. The demand for Pickkup's on-demand last-mile delivery services grew tremendously from enterprises particularly from retail and e-commerce players.
Apart from Bengaluru, Chennai the tech enabled last mile delivery startup is also ready to expand its operations to other Tier-1 and Tier-2 cities of Andhra Pradesh and Telangana. While the operations in Bengaluru are set to start next month, the startup is expected to take off in Chennai and Vijayawada in June and Vishakhapatnam by October this year. Over the next two fiscal years, Pickkup aims to have operations in eight cities with an expected revenue of Rs 50 crore.
With a number of its partners having multi city presence, the startup already has order commitments from a series of businesses and e commerce platforms in Bengaluru and Chennai. The startup already has order commitments from businesses, bakery outlets, retail and several e commerce platforms in Bengaluru where operations are set to take off immediately.
"With our technology-driven services enabling a highly efficient local delivery model, Pickkup has emerged as the fastest growing last mile delivery startup. We are now ready to take our services beyond Hyderabad. Since many of our existing customers are requesting delivery support in Bengaluru and Chennai as well, these cities are on our immediate agenda, to be followed by other top tier cities. E-commerce customers have also approached us for delivery services in Tier -1 and Tier-2 cities of Southern India. We are aiming at establishing our unique on-demand model in at least 5 cities by the end of this year and expect to touch a revenue of up to INR 10-12 crore by the next financial year. We are looking to raise up to Rs 7 crore including contribution from promoters to fund this expansion," said Hemanth Chandra, Founder and CEO of Pickkup.
Lack of efficient last mile delivery services has been a major pain area for enterprises particularly small businesses that are time and resource strapped. This paucity was felt particularly strongly by enterprises across the country last year as COVID 19 gave a major push to digital services and online deliveries. Pickkup addresses this gap with its super effective last mile delivery capabilities.