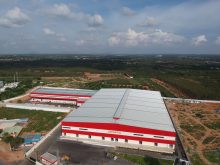 Pepperfry has launched its first ever built-to-suit home and furniture warehouse in Bengaluru. This automated and tech-led warehouse, located in Hoskote area, is spread across 3,60,000 sq ft, making it the largest built-to-suit facility in the segment, in India.
South India forms the biggest market for Pepperfry and the facility will thereby help the company provide best-in-class services to its customers. The facility is located along the highway and is equidistant from key demand centres in Bangalore, which results in a reduction in overall transit time and long-haul movement cost across markets, as well as allows hassle-free movement of vehicles. This improved infrastructure will also ensure overall customer experience will go up with faster delivery rates.
The launch is in line with Pepperfry's aim to build the largest big-box logistics network in India and particularly strengthen its services in South India, which contributes to 40% of the marketplace's overall business.