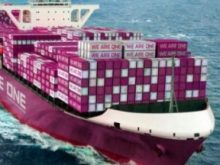 ONE India (Ocean Network Express) became the first Carrier to launch their Electronic Delivery Order (e-DO) via Port Community System (PCS1x) by going live for Nhava Shiva India. While urging all other carriers to step forth and commence eDO release via PCS1x, Dr Janardana Rao, MD, IPA (Indian Ports Association), says, "This initiative will significantly improve efficiency while also taking Indian logistics closer to becoming a paperless regime.
With the roll-out of the service, ONE India customers will be further facilitated and gain considerably; saving time and money in clearing cargo and speed up delivery order extension and the empty offload processes. Field agents of importers and customs brokers need not wait at line offices and can be utilised more productively.
Indian Ports Association (IPA) launched a value-added Electronic Delivery Order (eDO) facility – on its cloud based new generation Port Community System 'PCS1x'. Government has ensured that the facility can be availed free of charge by all stakeholders on PCS1x.