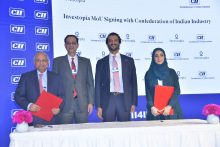 Investopia signed a Memorandum of Understanding (MoU) with the Confederation of Indian Industry (CII) to facilitate the exchange of expertise and knowledge between business delegations, and to promote investment opportunities in Indian-UAE markets across new economic sectors. MoU is signed as part of the company's efforts to establish new partnerships with leading local and global institutions and entities. Under the terms of the agreement, the two parties will organize joint events and conferences to enhance communication at the private sector level, thereby strengthening economic and investment ties between the two countries. The MoU was signed by Badreya Al Maidoor, Assistant Undersecretary of Support Services Sector at the UAE Ministry of Economy; and Sanjiv Bajaj, President of CII, in New Delhi, in the presence of H.E. Abdulla bin Touq Al Marri, UAE Minister of Economy, and Chairman of Investopia.
Badreya Al Maidoor said: "The signing of the MoU with the Confederation of Indian Industry reflects Investopia's vision and confidence in the Indian market, as one of the most important global strategic markets teeming with promising investment and trade prospects. It builds on the global dialogue launched by the platform in India, the first outside of the UAE, which included two sessions in Mumbai and New Delhi in May 2022." "By joining hands with CII, we look forward to sharing experiences and knowledge and business delegations to promote investment opportunities in both Indian and UAE markets, across new economic sectors, especially circular economy, family businesses, renewable energy, tourism, technology, and innovation," she added.
Through the partnership, CII will participate in the third edition of Investopia's annual conference, which is set to be held in the UAE from 28 to 29 February, 2024.