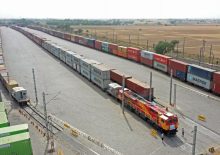 Maersk became the pioneer of offering 'Assured transit times' with its rail solutions to customers. The forward-looking solutions developed are expected to aid the rising demand for sectors such as eCommerce through dedicated services. eCommerce, which has traditionally run on road transit, is expected to move towards rail even more in the near future as it gives assured transit for time-sensitive cargo.
"Being committed to connecting and simplifying our customers' supply chains meant we had to go beyond solutions that are on the menu card. We wanted to create exciting offerings that would delight our customers, especially in the tough pandemic situation that we have been operating in", said Vikash Agarwal, Managing Director, Maersk South Asia. He added, "Having flagged off 13 new services successfully over the year, Maersk is truly proud to have designed and implemented what customers needed. And it doesn't end there – with the new environment-friendly rail services, in 2021 we reduced carbon footprint that is equivalent to the emissions from a car being driven for around 60,000 km."
Maersk witnessed 43% growth in the movement of containerised export cargo on rail in 2021 and 23% growth on rail for import and export combined. Maersk plans to develop further on the foundation of the rail solutions in 2022. "Rail has always been considered as a second alternative to road transport despite being safer and faster. Last year we have created 273 new corridors with rail as the backbone and connected our customers on this highly efficient mode of logistics all the way to their hubs of convenience. Having carried more than 50,000 containers (twenty feet equivalent units / TEUs) over and above the previous year and having covered 150,000 km, we are confident of building on this solution in the coming years too," said Jyoti Mitter, Rail Product Manager, Maersk South Asia.