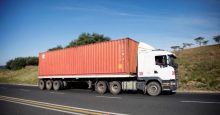 As the Indian growth story has progressed, the logistics industry has played a vital role in empowering other sectors. G.V. Sanjay Reddy, Vice Chairman GVK, highlights "how the logistics sector in India, which was at $160 billion in 2017, has witnessed a tremendous growth. In 2020, its market was estimated at $215 billion".
The underlying factors driving this upward trend is the increasing demand of e-commerce in the non-metro cities of India. In recent years, e-commerce has expanded aggressively to tier-2 and tier-3 cities across the country, which has further led to the growth of the logistics sector to keep up with the rising demand.
In the fourth quarter of 2020, smaller cities accounted for 46 per cent share in total e-commerce volumes, marking a steep 14 per cent rise from the period just before the Covid-19 pandemic spread. A striking reason for the increased online spending per customer in these cities is driven by the development of last-mile delivery by the logistics companies and an exponential increase in the warehousing space.
This trajectory is expected to continue with annual investments being made to the tune of $500 billion, with the projected CAGR for 2019-2025 standing at 10.5 per cent. Similarly, the investments made in the warehousing segment have increased by $7.12 billion between 2018 and 2020.