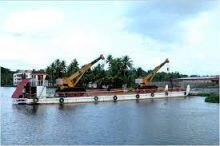 Inland Container Depot (ICD) in Kottayam (Kottayam port) announced to work together with the Kuwait-based Azimar Shipping & Logistics LLP in container movement and setting up modern consolidated cargo warehouse in Kottayam.
Abraham Varghese, managing director of the Kottayam port, and Ani Peter, managing partner, Azimar, signed a memorandum of understanding (MoU) in this regard at a function held in the presence of Industries Minister P. Rajeeve and Registrations Minister V. N. Vasavan in Thiruvananthapuram on Monday. As per this, Azimar will invest in building a new barge with a capacity to carry 30 TEU (twenty-foot equivalent unit) of cargo.
"At present, we have more than 400 units of container transactions per month. With the arrival of Azimar, we expect that to cross 600 units in the beginning and touch 1,000 units later," said Roopesh Kumar, general manager, Kottayam port.