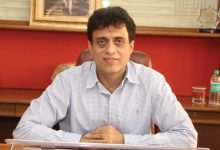 The Port of Antwerp and Jawaharlal Nehru Port Trust (JNPT) sign a Memorandum of Understanding (MoU) to establish the JNPT-Antwerp Port Training & Consultancy Foundation as the 'Port & Logistics Training Centre of Excellence'. This will enable the Centre to offer industry relevant courses with practical implications in the future. The MoU was signed by Sanjay Sethi, IAS, Chairman, JNPT, and Kristof Waterschoot, Managing Director, APEC. The first course on 'Handling of Dangerous Goods' was conducted at the Centre last week by Kurt Van Passen, an expert of the Port of Antwerp, together with Babette Desfossez, Belgium Customs Attaché.
The facility will now be a Centre of Excellence for the maritime sector in India, for Indian and international port and logistics professionals, it was highlighted.
Sethi stressed that the JNPT-APEC Training Centre has been hugely beneficial and that the Centre of Excellence will be enhanced in scale and scope to play a nodal role for all kinds of training and intellectual exchange, with a wide range of programmes. The Centre has the potential to become a very significant institution which all stakeholders can become part of, he added.