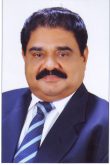 TA Varghese, President, ACAAI, believes, "Liberalisation of FDI in aviation will facilitate the growth of this capital-intensive industry." He continues, "Boost has been given to India Inc. in the budget. The plan to utilise Rs 70,000 crore for the recapitalisation of banks is likely to ease the credit crunch for business and industry. The proposal to invest Rs 100 lakh crore in infrastructure projects in the next five years and the plan to construct 1.25 lakh kilometres of rural roads will boost the movement of goods pan India. The Union Budget 2019-20 is a budget with a 10-year vision and a 5-year target."
The proposed-investment in infrastructure and digital economy as well as job creation in small and medium firms may generate much-needed jobs in these sectors. The first step towards achieving the objective of powering India to a $ 5 trillion economy by 2024 have been taken in this budget. Overall, this budget has sought to balance the needs of both 'Bharat' and 'India'.
It projects a 'new India' roadmap by placing great emphasis on uplifting rural India through various measures while also addressing the needs of urban India. The planned provision of access to electricity for every rural household by 2022, clean water to all rural households by 2024 and 1.9 crore houses to citizens in the next two years are steps in the right direction.