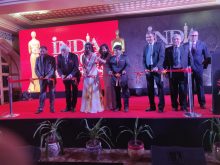 The fifth edition of India Cargo Awards celebrated the accomplishments of the cargo industry, at Hotel Clarks Shiraz, Agra, on December 5, 2018. Suresh Prabhu, Union Minister of Commerce & Industry and Civil Aviation, Government of India, congratulated the winners through a video message as he could not make it to the event. He said, "I am glad India Cargo Awards is being hosted today. I wish success to all winners. I wanted to personally come and present the award to you but, unfortunately, I am tied up elsewhere. Please consider the awards to be personally handed over by me as recognition of your good work for the industry. The awards are a reminder of what is required to be done to make India the most efficient country for cargo movement in the world."
He also spoke of a comprehensive strategy that is being devised to make movement of cargo hassle-free, cost-effective, and efficient. "We are coming out with an air cargo policy which will be announced in the month of January next year. We are working on a comprehensive strategy to create logistics hubs and I have already spoken to several countries including UAE, Saudi Arabia, Oman and others in the neighbourhood, as well as far-off countries like Russia. All of this is going to bring in huge change in the way we do logistics in India," he said.
The award ceremony held in Agra was also graced by Dinesh Kumar, Deputy Director, Ministry of Civil Aviation, Government of India, who was the Guest of Honour for the glorious evening. It also saw the presence of Manvinder Sandhu, runner up, Gladrags Mrs. India and the leaders of the cargo industry. The 40 winners were chosen after a fair and unbiased selection process through online voting.