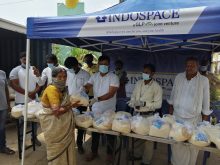 The period of successive lockdowns has been tough for the families whose incomes have been reduced substantially or become zero. To lend a helping hand such families, IndoSpace has taken an initiative to provide food rations to households living in the communities around IndoSpace's warehousing and logistics parks in Maharashtra (Chakan, Khopoli), Karnataka (Bommasandra, Nelamangala) and Tamil Nadu (Chennai).
Under this initiative, IndoSpace has distributed close to 7000 ration kits with the objective of supporting these families with their daily staple food requirements till the time the earning members of these families are able to return to employment. The ration kits have been customised as per the regional food habits.
The company has set up distribution kiosks in the common areas of the village, and beneficiaries were able to collect their kits while following safety precautions and social distancing. The process is administered in the presence of an IndoSpace representative, a village administration official and the local NGO, to ensure that the distribution is as per the official government list only.
IndoSpace is constantly evaluating the situation in the villages to understand how the livelihood is progressing as lockdown restrictions are beginning to ease and will take a call on continuing the support basis the situation on the ground.