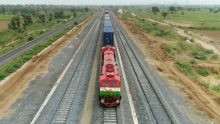 Indian Railways conducted a trial run of double stack cargo train on Western Dedicated Freight Corridor (WDFC) on the 306 km long Rewari -Madar Section. With this trial run, Indian Railways' cargo carrying capacity is all set to receive a major boost. Indian Railways will run freight train at the maximum speed of 100 km/per hour against the current maximum speed of 75 kmph on tracks. The average speed of freight trains will also be increased from existing speed of 26 kmph on Indian Railways lines to 70 kmph on Dedicated Freight Corridors (DFC).
Railways has already done a trial run of BOXNS cargo wagons at 110 Kmph, trial runs are being conducted on the Dedicated Freight Corridor Corporation of India (DFCCIL) tracks.
The Dedicated Freight Corridor (DFC) infrastructure is made in such a way so that it utilises the carrying capacity of these freight wagons. At present, Indian Railways' freight trains can carry 61 -71 tonne weight per freight carriage at an approximate speed of 60 kmph.