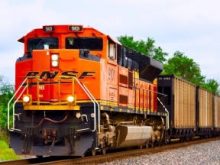 Despite the COVID-19 pandemic, Indian Railways has surpassed freight traffic as compared with the corresponding period last year. The national transporter increased the average speed of its freight trains to 46.16 kmph which is more than double as compared to its speed of 22.52 kmph last year. The freight loading was 3.13 metric tonne (MT) on July 27, which is higher than last year for the same period, with an increase of 0.3 per cent. However, the cumulative, overall loading of freight trains remains 18.18% less than last year.
On July 27, the Railways loaded a total 1,039 rakes with freight including 76 rakes of food grains, 67 rakes of fertiliser, 49 rakes of steel, 113 rakes of cement, 113 rakes of iron ore and 363 rakes of coal.
"Railways has achieved record loading of foodgrains this fiscal which is 80 per cent more than last year, and has also introduced time tabled parcel services – 4,541 services and transported 2.41 lakh tonnes cargo generating a revenue of Rs 86.88 crore," said VK Yadav, Railway Board Chairman.