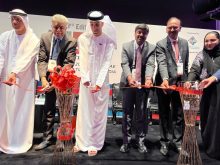 At the inauguration of the 3rd edition of LOGIX India in Dubai, H.E. Dr. Thani Bin Ahmed Al Zeyoudi, Minister of State for Foreign Trade, UAE, said: "The India-UAE Comprehensive Economic Cooperation and Partnership Agreement (CEPA) shall result in accelerated trade and investment and shall open a new world of opportunities." Dr. Thani Al Zeyoudi said India is the UAE's largest non-oil trade partner and the future is bright for India-UAE collaborations in global supply chain logistics.
Thanking H.E. Dr. Thani Al Zeyoudi for inaugurating the event, Dr. A Sakthivel, President, FIEO, said, "India is committed to spending US $1 trillion on various infrastructure in the next 5 years, which will facilitate our logistics by bringing efficiency and reducing its cost." "Logistics is an important component of the economy, and its role in manufacturing and exports can hardly be undermined. The logistics cost in India is about 14% of GDP, as against the international benchmark of 8-9%. However, the focus of the government on addressing the cost through various measures has already started yielding results. The government is implementing the dual Bharatmala (road network) and Sagarmala (waterways network) to improve the logistic backbone," added Dr. A. Sakthivel.
HE Ahmed Mahboob, Director General of Dubai Customs and the CEO of Ports, Customs and Free Zone Corporation, said, "UAE has made significant progress in technology upgradation in customs and the logistics sector and looks forward to supporting India in its mission for logistics sector transformation."
Complementing FIEO on organising LOGIX India in the UAE, Sandeep Kumar Bayyapu, Deputy Chief of Mission, Indian Embassy, UAE, mentioned, "The Indian economy is on the upswing. We have become the fastest-growing major economy in the world. We endeavour to become a US $5 trillion economy by 2026. Indian logistics companies should form good partnerships with UAE companies and take advantage of the technical expertise available in the region.
About 100 Indian companies are in the UAE at the 3rd Edition of LOGIX India to meet their prospective trade partners, and FIEO is playing a key role in facilitating trade and investment in the sector, highlighted Dr. Ajay Sahai, Director General & CEO, FIEO. "We are excited about the prospects being offered in the UAE post-CEPA agreement and we look forward to exploring markets in Africa and the MENA region through the UAE," added Dr. Sahai.
The inaugural ceremony was also attended by Abdul Rahman bin Haider, Head of World Logistics Programme, UAE; Suresh Kumar, Chairman, Indian Business & Professional Council, UAE; Nadia Abdul Aziz, President, National Association of Freight Logistics, UAE; and Shankar Shinde, Chairman, Federation of Freight Forwarders' Associations in India, together with leading logistics companies of the region.