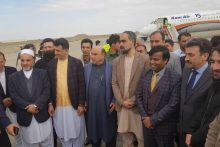 India and Afghanistan have opened another air freight corridor connecting Herat to New Delhi to promote bilateral trade, bypassing Pakistan. The corridor was inaugurated just a few days after Afghanistan sent the first cargo shipment, carrying 200 kg of saffron and 1600 kg of Pistachio, to New Delhi from Herat in the first flight.
India and Afghanistan established a direct air freight corridor connecting Kabul to New Delhi in June 2017 after a decision was taken in September 2016 in a meeting between Prime Minister Narendra Modi and Afghan President Ashraf Ghani. Since then, the corridor also expanded to the Kandahar-New Delhi sector. On February 24, Afghanistan started a new export route through Iran's Chabahar port that marked the first end-to-end use of the trade route for Afghan exports. The Zaranj-Chabahar route allows Afghan goods to reach India without crossing the Pakistani territory.
The Afghanistan Chamber of Commerce and Industries (ACCI) has said that Afghanistan's economic dependency on Pakistan has gone down following the establishment of new alternative trade and transit routes with several countries, including an air corridor with India.