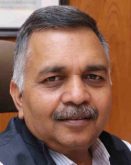 "In order to streamline the logistics eco-system in the country, a National Logistics Efficiency and Advancement Predictability & Safety Act (NLEAPS) is under consideration," informs, Pawan Agarwal, Special Secretary (Logistics), Ministry of Commerce & Industry at a webinar organized by the PHD Chambers of Commerce. Stressing on defining the various elements in the logistics sector, he says, "What the logistics sector is all about is not very clear to us as of now. The government is considering replacing the multimodal transportation of goods law with national logistics law to promote growth of the sector."
"The high logistics cost of country is impacting the competitiveness of domestic goods in the international market. India's logistics sector is highly fragmented and the government aims to reduce the logistics cost from the present 14 per cent of the Gross Domestic Product to less than 10 per cent," tells Agarwal. He continues, "During the times of COVID-19, there has been a disruption in the supply chain and movement of truck with many of the supplies diverting to the rail; making it a reliable and cost effective mode of transportation. In these indispensable times, we have realised the importance of essential services with their regular supply chains," he adds.
According to Agarwal, digitisation of logistics is the need of the hour which will increase the efficiency in movement of goods. He also informs that the government is working on creating digital platforms and mobiles apps for logistics such as warehouse information tracking and trading yard (WITTY), among others to mapping of warehouses.
Agarwal believes that logistics is a sector that needs to realise the vision of 'Aatma Nirbhar Bharat'.