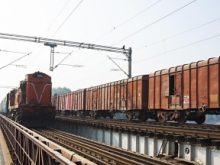 The government has sought a list of all components of the Dedicated Rail Freight Corridor project that has been delayed due to various orders given by judiciary as well as the National Green Tribunal (NGT) while expressing concerns over the cost escalations and continuous delays of the project.
This comes with the fast-approaching commissioning target for the project, which is scheduled for June 2022.
In a recently held review meeting, which was chaired by the Prime Minister himself, governments of Maharashtra and Gujarat were asked to complete land acquisition process, relief and rehabilitation work as well as construction of road over bridges as soon as possible.
As per reports, PM Modi asked Maharashtra government to acquire and hand over around 0.27 hectares of private land by October 15, 2021 and even asked it prioritise the project and complete all the given work on time.