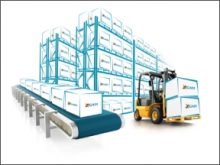 In order to cater to the upcoming festive season demand, Gati-KWE has revamped its express distribution, warehousing, and supply chain management services. Despite the COVID-19 pandemic, the company expects robust 50 per cent growth in volumes during the October-December festive season. The company is actively building capacity, strengthening its supply chain and delivery capabilities to cater to the expected volume rush.
"We are further augmenting our express logistics capacity by two-fold for the upcoming festive season. Our decision to expand resources and service bandwidth by hiring additional trucks is a consequence of our experience and understanding of the market underlined by our commitment to efficiently accommodate the increased and dynamic demands of our customers during this period. As we go about doubling our capabilities, we are also giving utmost attention to COVID-19 care and safety and ensuring 100% adherence to precautions for our staff members, operators, partners, and all other stakeholders working with us," said Bala Aghoramurthy, Deputy Managing Director, Gati-KWE Ltd.
The company is aggressively promoting various offers to drive sales. These intense efforts are expected to significantly drive logistics volumes and demand in the festive season. Additionally, the changes in buying patterns suggest that consumer sentiment in India is gradually improving. According to the recent Mintel research findings, almost 30% of Indian consumers surveyed, plan to spend more on clothes and accessories followed by other goods.