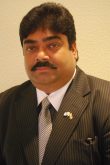 FIATA World Congress (FWC), which is being hosted by FFFAI in India from September 26-29, 2018, at Pullman Hotel, Aerocity, New Delhi, is all set to welcome former Indian Cricket Team Captain Saurav Ganguly, who will address a galaxy of eminent logistics industry practitioners and experts. The event will be inaugurated by Nitin Gadkari, Shipping & Road Transport Minister, Government of India. The former Indian skipper is scheduled to speak at the Indian Forum to highlight various factors and aspects of India's growth story.
Other esteemed speakers marking their presence are Kunio Mikuriya, Secretary General, World Customs Organization, Babar Badat, President, FIATA and A.V. VIjayakumar, Chairman, FFFAI.
According to Debashis Dutta, Chairman, FWC-2018 Organising Committee and Past Chairman, FFFAI, "The separate session for the young logistics professionals would be beneficial for the start-ups. Moreover, for the young participants, FWC 2018 has arranged an interesting game titled 'Business on the Move', where participants will be enlightened on the logistics business through a game."
More than 1000 customs brokers, freight forwarders and allied industries are participating from 100 plus countries to explore logistics business opportunities in India as well as other parts of the world at the FWC-2018.