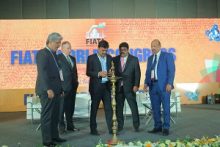 The FIATA World Congress 2018 (FWC-2018), with the presence of 1200 delegates from more than 130 countries and across India, is underway at Pullman New Delhi.  Themed 'Future Starts Here', the inauguration ceremony was addressed by AV Vijaykumar, Chairman, Federation of Freight Forwarders' Associations in India (FFFAI), Neeraj Bansal, Chairman, Jawaharlal Nehru Port Trust (JNPT), who was also the Chief Guest; Robert A. Voltmann, Secretary General, FIATA, Debashis Dutta, Past Chairman, FFFAI and Chairman, FWC-2018 and Samir J Shah, Mentor, FWC-2018.  Federation of Freight Forwarders' Associations in India (FFFAI) has hosted this first-ever international logistics conference in India.
Welcoming the delegates, Vijaykumar said, "India is privileged to host for the first time FIATA World Congress this year."
Dutta remarked on the high number of registered participants who culminated for the event. "We are excited to announce that FWC-2018 registered close to 1200 delegates from across the world."
At the FWC-2018, 20 business sessions are expected to be held with some 70 eminent speakers from international logistics industry, apart from representatives from Government of India, WCO, renowned personalities, etc. In addition, there are about 1000 scheduled B2B meetings among more than 500 delegates in the offing.