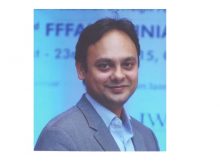 Realising the potential of logistics industry in India, the Federation of Freight Forwarders' Associations in India (FFFAI) will organise a 'Young Logistics Programme (YLP)' on September 24 during FIATA World Congress (FWC) 2018, at Pullman Hotel, Aerocity, New Delhi. Elaborating more on YLP, Tej Contractor, Executive Committee Member, FFFAI and who is spearheading the programme, said, "The objective of YLP is to provide our youth with a global perspective of our industry at present. Currently, disruption is the name of the game. At the YLP we will showcase the disruptive technologies that have changed and will change our industry in the "Battle of the Startups" by presenting three leading startups in various fields."
According to Contractor, learning is the necessity of life. "We learn something new every day and will continue to do so. After an energetic morning with the disruptions with startups, what better way that to introduce the newest way of learning the Logistics Business by playing a game," he added.
At the YLP, FFFAI will excel the process of learning the logistics business 'with business on the move' perception.