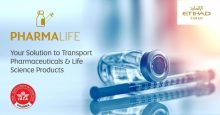 Strengthening its pharmaceutical logistics expertise, Etihad Cargo has launched PharmaLife, a specialised pharma and healthcare product which replaces the carrier's TempCheck product. The dedicated product aims to move the anticipated global demand for Covid-19 vaccine. It will available at 54 stations on the Etihad network and will focus on key gateways including Abu Dhabi, Barcelona, Chicago, Paris, Dubai, Frankfurt, Hyderabad, London, Milan, Melbourne, Mumbai, Shanghai, Singapore, and Sydney.
Andre Blech, Head – Operations & Service Delivery, Etihad Cargo, said, "The pandemic prompted a reassessment of our top-level services to ensure we can address the specific requirements for shipping high volumes of in-demand product in very short timescales. To avoid last-minute pressure once a vaccine is approved, we have established a dedicated Covid-19 vaccines workforce composed of a steering committee and a working group to manage all anticipated elements."
"Our intention is to continuously expand our Pharma trade lanes, which requires collaboration with industry partners. By working with equipment suppliers, general handling agents, and associations, we can share knowledge and build trust across the industry that will result in the highest quality industry standard for sustainable quality that our customers deserve," he said.
"A core part of this is through working with our GHAs to offer cool dollies or thermo trucks for key destinations; dependent upon viability, we could look into an advanced lease model for this kind of equipment as currently, due to tarmac constraints, cool dollies and thermo trucks are quite rare and expensive," added Blech.