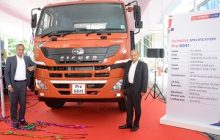 Eicher Trucks & Buses has introduced two new heavy-duty trucks, taking its vision of modernising commercial transportation further. Riding on the success of its Pro 6000 series, the company launched two new technologically superior trucks – Eicher Pro 6049 and Eicher Pro 6041 in the 49 tonnes and 41 tonnes categories respectively.
The new tractor trailer – Eicher Pro 6049 has been designed to deliver optimum performance and peak power at 250 HP keeping customer profitability in mind. It manifests the prowess of the Eicher Pro 6000 series and offers a refined trucking experience with the superior VEDX BS IV SCR engine, newly designed ergonomics and robust Eicher aggregates for best in-class fuel efficiency.
Eicher Pro 6041 is India's first 41 tonnage rigid haulage truck and offers a payload advantage of 3.5 tonnes over a 37-tonnage truck. The vehicle is powered by VEDX8 engine,
which is the biggest and the most fuel-efficient engine available in the category. The product is a revolutionary breakthrough in the trucking industry, to meet growing demand in high value applications.