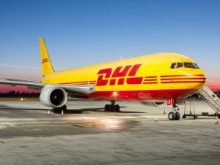 As part of its efforts to continue modernising and growing its fleet, DHL Express and Boeing has announced that DHL will add four B767-300 Boeing converted freighters (BCF).
According to DHL, the move was a step towards modernising its long-haul intercontinental fleet in order to fly eco-friendlier and more cost-efficiently. Work on the conversions will start in the fourth quarter of this year and is expected to be completed by the end of 2021.
"We are excited to introduce additional B767 freighters to the DHL Express air network," says, Geoff Kehr, Senior Vice President – Global Air Fleet Management, DHL Express.
The 767-300BCF has virtually the same cargo capability as the 767-300F production freighter with approximately 50 tonnes structural payload at a range of approximately 5,556 km and 186,880 kg maximum take-off weight.