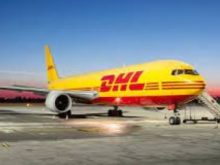 DHL Express launched the construction of a new stand alone, logistics hub, at the Abu Dhabi International Airport (ADIA). The 15,000sqm facility, on a 30,000sqm airside/landside plot, located in ADIA's Future Cargo Area, is being developed in partnership with Abu Dhabi Airports Free Zone Authority (ADAFZ) – a wholly owned subsidiary of Abu Dhabi Airports – and Middle East General Enterprises (MGE).
DHL's new airport facility constitutes the company's latest investment in strengthening the global trade links of the UAE's capital and acts as a consolidated hub inclusive of an Import & Export Gateway, Service Center, Logistics Center & Road Network, with an initial head count of 210 employees.
The new facility features a 10,800sqm built-up area, with future expansion potential to increase capacity by an additional 50%. The facility will be well equipped to handle up to 3,600 inbound and outbound/ transit shipments per hour, amounting to 86,400 shipments a day, with the ability to service customers in the Emirates of Abu Dhabi and Al Ain, as well as supporting other countries of DHL network and providing solutions that will improve their efficiency. It will additionally follow the most up to date TAPA security regulations, employing the latest technologies across all of the operation.