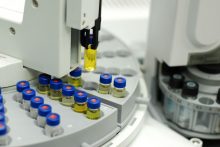 The International Airport Transport Association (IATA) recently awarded the Mumbai and Hyderabad branches of Dachser India with the prestigious CEIV Pharma certification, recognizing the company for its excellence in transporting Life Science and Healthcare (LSH) products.
The certification is a significant achievement for the logistics service provider given that only very few companies are currently accredited in India. In fact, the Dachser Hyderabad branch is only the second logistics firm in the area to receive the recognition; while its Mumbai branch is only among a few in the region.
The Center of Excellence for Independent Validators in Pharmaceutical Logistics (CEIV Pharma) certification is a globally recognized certificate that acknowledges companies who excel in transporting Life Science and Healthcare (LSH) products. It is a quality mark and an industry standard that recognizes the logistics service provider as being able to safely, security and efficiently handle pharmaceutical shipments through the supply chain to assure product integrity and compliance with national and international guidelines.
"Obtaining the CEIV Pharma certification is an important milestone for Dachser India. It emphasizes our continued focus for providing highly reliable logistic services to our valued customers in the LSH segment", said Huned Gandhi, Managing Director, Air & Sea Logistics for the Indian Subcontinent.
"Quality and efficiency have always been the cornerstones for our success and our teams are extremely proud to receive this accreditation from IATA", Gandhi added.