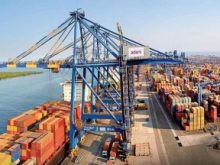 A ray of hope for Indian exporters is expected in the current week as the Commerce Ministry in India has assured that they will announce short-term measures to ease the situation of acute container shortage and skyrocketing box prices caused by the Covid-19 pandemic.
India's Commerce Secretary BVR Subrahmanyam stated to the media that the Central government is brainstorming the options put across by the export body and private players to come up with a solution for the ongoing container crunch.
Federation of Indian Exporters Organisation's (FIEO) Director General and CEO Dr. Ajay Sahai said, "There are around 30,000 odd containers which are at different ports either because the importer has not taken the delivery or there is some dispute on customs duty or classification. We have suggested the government that these 30,000 containers be offloaded at various warehouses and can add them to the supply chain to help in exports."
Secondly, the export body has requested the government to regulate the export of empty boxes so that only filled containers move out of the country and the empties are put back in the system.