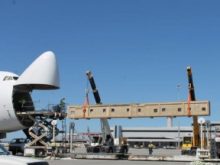 Chapman Freeborn has successfully handled an unusual heavy and outsize cargo operation in Australia. The cargo was manufactured in Germany and sent to Australia on an expedited basis due to the high value and importance of the consignment. The shipment, weighing 92 tonnes in total, consisted of exceptionally large pieces that were 15 metres in length and weighed 17 tonnes each. Because of the over-dimensional length of the cargo, a nose loader was required and a full Boeing 747-400 freighter was used for transportation.
Before acceptance onto the aircraft, the cargo was load planned for maximum centre of gravity flight efficiency with both the main and lower decks being used. The cargo itself was restrained by placing high quantity straps into the crates and directly over the cargo to achieve the load plan requirements.
To ensure the smooth and quick operation, external equipment comprising two main deck loaders and two cranes was used to load and offload the cargo and the visitor permits were arranged for the trucks to receive the cargo direct on the apron. The consignment bypassed the terminal in Australia by exiting the airport through the emergency access gate and it was organised that the Customs Authority would clear the consignment electronically.