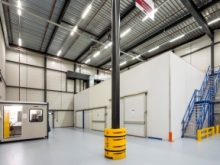 In an expansion of its support for global healthcare and pharmaceutical customers, CEVA Logistics has announced a new sub-brand, FORPATIENTS, to support better patient outcomes through the company's broad range of healthcare logistics services. CEVA FORPATIENTS offers healthcare and pharmaceutical companies end-to-end logistics solutions that place the patient at the center of the supply chain. As part of the suite of solutions, the company is also introducing a new temperature-sensitive logistics product that will begin service in the second quarter of 2021. The CEVA FORPATIENTS suite of healthcare logistics now encompasses temperature-sensitive solutions, pharma and biopharma, medical devices, consumer health, hospital and home care as well as diagnostic and laboratory services. Centralising its global healthcare offerings under the FORPATIENTS umbrella gives greater visibility of CEVA Logistics' range of services to its customers and assures them of the central position of the patient. The company is also launching an advertising and social media campaign to show how logistics solutions support common medical procedures and healthcare needs.
The new CEVA Logistics' solution requires investment in temperature-controlled facilities around the world. With the support of its parent company, the CMA CGM Group, a world leader in shipping and logistics, CEVA has committed to operating a network of more than 40 such airfreight stations by the end of 2021. Some of the stations will also offer other services, such as contract logistics support.
In all, the stations will allow CEVA to not only service major healthcare gateways in regional markets, but also to supply more than 1,450 healthcare trade lanes globally. Through the global network, CEVA will welcome a broad range of customer shipments in conjunction with its temperature-sensitive packaging solutions, including active and passive packaging, as well as solutions for out-of-gauge goods.
Says Niels Van Namen, Executive Vice President, CEVA's Global Healthcare Sector, "Our customers supply the vaccines, medical devices, medication and other support products on which patients around the world depend. For example, diabetic patients should not have to worry about supply chain reliability for their insulin. At CEVA, we're expanding our temperature-sensitive solutions to ensure that, no matter the logistics challenges faced, patients' needs are met. Behind every shipment, we see a patient."
Mathieu Friedberg, CEO, CEVA Logistics, adds, "The global healthcare market has seen enormous change over the last year as a result of the pandemic that continues to affect daily life. The pandemic is also combining with the advance of technology and at-home treatment to usher in a new era of healthcare. As an agile logistics provider, CEVA will continue to offer new healthcare logistics solutions for our customers, and ultimately their patients. Today's new FORPATIENTS sub-brand confirms our commitment as a responsive and reliable supply chain for better patient outcomes."