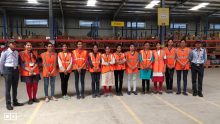 Driving a change for the logistics sector, Future Supply Chain (FSC) Solutions has established an all-women-run distribution centre (DC) 'Shakti' in Nimji, Nagpur. The DC is fully equipped with Transportation Management System and Warehouse Management Systems software.
FSC introduced a disruptive idea of an all-women distribution centre at Nagpur last year. The inspiration behind the initiative was a woman in-charge of their Bengaluru DC who impacted the entire productivity chain in a positive manner.
P V Sheshadri, CEO, FSC Solutions said, "FSC has been providing job prospects in the rural and semi-urban areas with its expanding warehouse footprint. We operationalised an all women DC last year with an objective to create opportunities for the women in Nimji, Nagpur. We look forward to inducting more women in our warehousing facilities and be the flag bearer of this change."
Future Supply Chain has already initiated a step towards gender equality by showing no disparity between the wages earned by men and women.