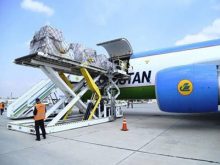 Carrying essential pharma supplies to the CIS countries via Uzbekistan Airways, Beehive Logistics (India) has send more than 1,36,078 kg of pharma supplies in the first week of October from Uzbekistan Airways' Boeing 767 aircraft. The company has achieved a target of 2,54,012 kg of pharma supplies in record time in September 2020 also. Beehive Logistics also flew the first cargo flight to Tashkent on April 21, 2020 carrying more than 27,000 kg of essential supplies to the Central Asia region.
Dr Naveen Rao, Group Chairman, Sentro Group, states, "The COVID-19 pandemic is a whole new world where service to humanity and supporting our partners is our prime objective. We will continue to work hard towards this goal."
Anish Khatri, GM (Uzbekistan Airways – GSA Beehive Logistics), says, "During this on-going pandemic, essential pharma supplies are very crucial for any nation to provide other medicines on time. Due to lockdowns in almost every nation from time to time, keeping stock of medicines has become even more important. We are just working hard to fulfil these gaps for CIS Countries by running regular cargo flights."
Beehive Logistics is planning to expand its services and to press more charter flights in supplying other goods also. Beehive Logistics, a part of Sentro Group representing Cargo Uzbekistan Airways as GSSA in India is operating host of cargo charter flights carrying essential pharma supplies to CIS countries.