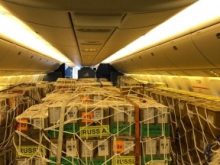 Beehive Logistics (India), GSA Cargo Uzbekistan Airways, has announced that it is now operating cargo flights from Hyderabad carrying essential pharmaceuticals supplies to Uzbekistan and Russia, as part of its expansion plan. It has been operating flights from Delhi and Mumbai earlier. Due to the on-going pandemic crisis, the demand for undisrupted pharmaceuticals supply has increased manifold. To accommodate the requirements of pharmaceuticals companies in Uzbekistan, CIS nations and Russia, Beehive Logistics has now started operations from Hyderabad too.
The GSA has also signed an exclusive contract with JODAS Expoim, a leading pharmaceutical company located in Hyderabad, to supply pharmaceutical goods to CIS nations and Russia. It is a modern research-driven organisation that has quality and affordability at the heart of its activities. With the JODAS Expoim and other leading pharma companies as the key shippers, Beehive Logistics have sent more than 4,39,985 kg of essential pharmaceuticals, vaccines, medical supplies and general cargo in November 2020. The flights operate back to back with Uzbekistan Airways' Boeing 767 aircraft.
Naveen Rao, Group Chairman, states, "Since, Hyderabad is known as the pharmaceuticals and vaccine hub of India. It made sense to expand our operations in Hyderabad apart from Delhi and Mumbai. We have been continuously working hard during this unprecedented time and our goal is to ensure an unbroken supply chain of pharmaceuticals supplies to Uzbekistan and other CIS nations along with Russia. And our exclusive contract with JODAS pharmaceuticals gives a competitive advantage as Russia and CIS nations are the main importers of pharmaceuticals goods from JODAS Expoim. This is one more step towards our goal."
On this alliance, Sashi Shankar P. Singh, Co-founder and Director, JODAS Expoim comments, "We have been supplying pharmaceutical goods to Russia and CIS Nations for more than a decade now. Our association with Beehive Logistics is going to smooth the supply chain further with their professional expertise and time-bound services. We are looking forward to a great association and growth story together.
Rao adds, "We can see a definite surge in demand for air cargo logistical services in CIS nations for supply and distribution of the Covid-19 vaccine. Beehive Logistics and our airline partner Uzbekistan Airways is already in the process of planning and deploying more temperature-sensitive cargo flights to capture and fulfil that demand in the future."
Anish Khatri, GM (Uzbekistan Airways – GSA Beehive Logistics) says, "There is a high demand for pharmaceutical shipments from India to CIS nations and Russia. And to support that demand, we have expanded our operations in Hyderabad to keep the vital supply chains moving with the leading pharmaceuticals exporters from the region. Though it is a challenging time for the cargo industry, however, with continuous efforts and strategic planning, a new journey can begin."