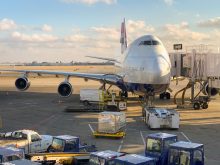 Airfreight rates continued their downward spiral in January but are still above pre-Covid levels, according to the latest statistics from the Baltic Exchange Airfreight Index (BAI). It shows that average rates – both contract and spot – paid by forwarders on services from Hong Kong to North America in January declined to $6.14 per kg compared with $6.50 per kg in December and $10.90 per kg a year ago.
However, rates on the trade are still 67.8% above the $3.66 per kg registered in January 2019 (pre-Covid).
It was a similar story in services from Hong Kong to Europe where prices fell to $4.96 per kg from $5.52 per kg in December and $6.61 per kg a year ago.
On this trade, rates stood at $2.83 per kg in January 2019.
Rates are supported by higher fuel prices, the lack of belly hold capacity on certain trades and ongoing expensive charter/BSA operations signed at the height of the pandemic.
On capacity, figures from Boeing presented at the recent World Cargo Summit show that overall capacity in November was only around 3% behind 2019 levels, but belly capacity was 23% down, with the difference made up by a 16% increase in dedicated freighters.