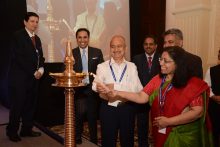 Air Cargo Forum India (ACFI) recently held a conference on 'India – Future Air Cargo Leader in South East Asia', in New Delhi. Addressing the gathering, Vandana Aggarwal, Economic Advisor, MoCA, Government of India, said, "In the last few years, we have emphasised on the fact that the entire value chain is important and we cannot work in silos. The result was laudable; air cargo, in terms of volume, has not only grown double-digit in the last two years, but we have also improved performance. Dwell time, which used to be more than 100 hours, came down to 13 per cent in the first year and 25 per cent in the second year. Today, we are stand at less than 39 hours for imports and less than 24 hours for exports, but there is more to be done."
Aggarwal also urged the air cargo community to take measures to strengthen itself to such a degree that these little blips, which were beyond their control, did not adversely affect the overall growth.
Pradeep Singh Kharola, IAS, Secretary, Ministry of Civil Aviation, Government of India, was the chief guest at the conference. The conference brought together ministry officials and expert speakers from the industry, as well as leaders from both India and abroad to debate on the National Air Cargo Policy that has been outlined and circulated by the government.