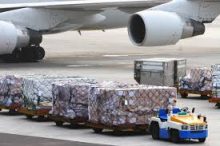 The Indian air cargo industry needs to grow at a rate of about 12.9 per cent every year from 2018 to 2027 to achieve National Civil Aviation Policy's (NCAP 2016) vision of reaching cargo volumes of 10 million tonnes (MT) by 2027, notes a recent ASSOCHAM-Auctus Advisors joint study.
The report suggests that international and domestic air freight is projected to grow at an overall Compounded Annual Growth Rate (CAGR) of 8.2 per cent. "Considering this trend to continue till 2027, projected international and domestic air cargo will be 3.6 MT and 2.1 MT, respectively, resulting in total air cargo traffic of 6.8 MT," it states. The study also highlights various issues confronting the aviation logistics sector in India. Lack of enabling infrastructure, lack of automated material handling systems, high manual intervention in processes, and inadequate skilled manpower are some of the key areas where Indian air cargo industry lags behind global peers.
"There is an urgent need for creating adequate freight carrying capacity within the Indian air network through creation of new cargo terminals and expansion of existing ones," the report states.