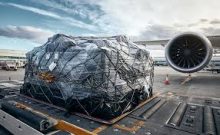 While the congestion at several airports, notably Amsterdam and Chicago O'Hare, has eased, handlers claim one of the biggest issues is lack of freight movements between Friday and Monday.
"We are experiencing cargo not being picked up by forwarders – that's a sweeping statement, but in general, dwell times are increasing," said Robert Fordree, head of cargo for Menzies. "Forwarders are struggling to get drivers, and their warehouses are full too. We have looked at increasing storage charges, but it's really a logjam everywhere, and wouldn't change anything."
Another handler said it had set up its own operations to deliver freight direct to forwarders, but added: "But then, there is no space at their end. Forwarders are congested too. We doubled our storage charges, and then did it again, but still no one picked up the freight. It's caused congestion in our warehouses and it's been chaos."
Forwarders can also expect to see a rise in terminal handling charges (THCs) next year.