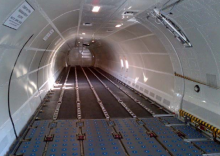 Freighter operator Aeronaves TSM has ordered an additional B737 conversion from Aeronautical Engineers, Inc as it continues to expand its cargo fleet.
The additional B737-400SF freighter conversion (MSN 26308) will commence modification in May with work carried out by authorised AEI Conversion Center, Commercial Jet, Alabama.
The additional conversion bring the total number of AEI B737-400Fs ordered by Aeronaves to eight.
The carrier has plans to operate 20 of the type and is currently in the process of purchasing more freighters to reach its expansion target.
AEI said that since its B737-400 conversion programme had been launched, it has re-delivered more than 132 freighter conversions.
AEI's 11 pallet position B737-400SF provides up 21 tonnes of payload and an Ancra cargo loading system capable of carrying multiple ULDs.